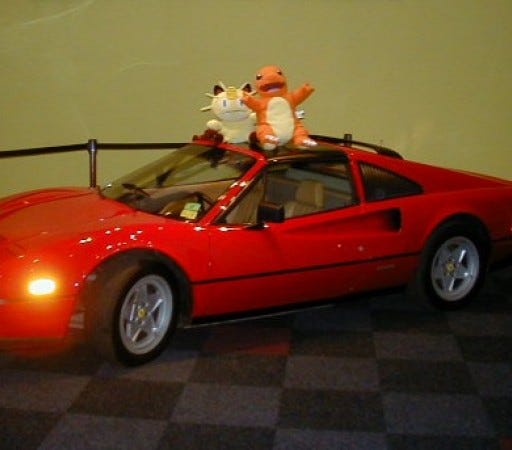 May 17, 2022 • 1M
Masters of Disruption: How the Gamer Generation Built the Future [35]
Twenty-five years ago, Doom co-creator John Carmack decided to give away his Ferrari to the winner of a Quake tourney. And esports was born.
How the gamer generation built the future. A serialized longform project by David Kushner, exclusively in Disruptor.
This post is part of a longform project I'm serializing exclusively in my newsletter, Disruptor. It's a follow-up to my first book, Masters of Doom: How Two Guys Built an Empire and Transformed Pop Culture, and it's called Masters of Disruption: How the Gamer Generation Built the Future. You can find the table of contents, as it unfolds, here. To follow along, please subscribe below. Thanks!
---
This story of mine originally appeared as "Ferrari Give-Away Drives Quake Contestants" in Wired News, 4/10/97
Every day, a thirty-something gamer in Michigan nicknamed Polaris has been playing Quake just for the thrill of it. But now, he'll be playing for an even more visceral rush: the chance to peel away with a turbo Ferrari.
The cherry-red 328 GTS belongs to none other than the co-founder of id Software, John Carmack, who has decided to give his US$50,000 sports car "back to the gamers that brought it to me in the first place." Don't shed a tear for Carmack; thanks to the success of Doom and Quake, he's got three more Ferraris parked in his garage.
Until 2 May, Quakers can register for the tourney and battle online in one-on-one contests via ClanRing (the Internet Quake league). The top 16 players will then be flown to Atlanta to duke it out on stage at the E3 Entertainment Expo, running from 19-21 June.
Although companies including Intel and Microsoft have co-sponsored id tourneys in the past (while countless "win a T-shirt!" contests are taking place across the world for games including Command & Conquer, and Magic: The Gathering), the Ferrari is the largest booty yet for a multiplayer gaming event.
How does the clan community feel about the evolution of tourneys from indie splatterfests to corporate-sponsored promotional events? "Maybe this is just a crass public relations stunt," says Steve Heaslip (aka Blue of Blue's News, the popular Quake Web site, and co-host of the Quakecast Net Radio show), "but giving away a Ferrari seems more like a genuine spontaneous bizarre act. I don't see how this takes away anything from the game."
In fact, the grass-roots ClanRing, which has run two online clan tourneys this past year, has much to gain. The organization run by Ohio State medical student Will Bryant recently teamed with Idle Communications, a Web programming and design firm in Florida, to create the Multiplayer Online Gaming site (MPOG), which hopes to facilitate Quake-style communities for games like Diablo and Unreal. Despite the allure of tourney prizes, Bryant says, "people are still competing for the sake of going 'hey, I'm better than you' - that aspect hasn't been lost."
Although competitors under age 18 are barred from the Ferrari contest for legal reasons (disqualifying some of Quake's best players), many clanners are looking forward to finding out who will be, as Blue says, "the Muhammed Ali of Quake." In the meantime, Polaris, whose clan The Ruthless Bastards won the last ClanRing tourney, will be practicing a couple hours a day for the coming showdowns. If he wins, though, he probably won't trade in his Dodge Intrepid for the Ferrari. "It doesn't sound too romantic," the father of two says, "but personally, I wouldn't drive a car that expensive; I'd probably sell it."